Sanctus Premium Massage Cream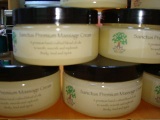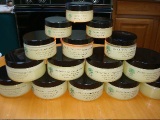 4oz- $10
8oz- $20
Over the years I have tried many different types of creams, oils and lotions in my massage practice. Some are of excellent quality and use high-end ingredients (and are prohibitively expensive) while others are of appalingly poor quality and performance. Most of these contain many complex chemical ingredients, some of which are of questionable health benefit, and all of which were being absorbed into both mine and my client's body through the skin!
Given this I decided to develop my own custom formulated massage cream made from the fewest number of high quality pure and simple ingredients. So, through much trial and error I developed a simple and healthy formula of all naturally derived and minimally processed ingredients: olive oil, coconut oil, bees wax and pure vitamin E oil in conjunction with superior quality essential oils. That's it!
What I created was a thick and richly nourishing massage cream with some phenomenal (and scientifically verified) health benefits and great properties for deep tissue massage. Each jar is hand crafted and scented in small batches and can be customized based on either the scents or healing properties you desire. The cost of a single jar of this premium massage cream is far less than the typical price you would pay for a comparable 'add on' aromatherapy treatment at most spas! It is both beneficial and economical, and makes a great gift. A little goes a long way!
Sanctus Samadhi Pillow & Cheeky Monkey Boo Boo Bags
(Therapeutic hot/cold packs)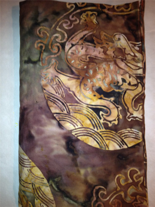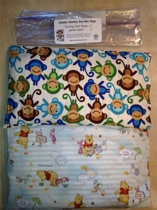 Small (6"x12")- $20
Large (12"x20")- $40
ABOUT
These therapeutic hot/cold packs are 100% natural! The fabric is 100% cotton fiber as is the thread used. The covers are also 100% woven cotton or printed Batik fabric. The printed batik fabric is beautiful, colorful and more delicate than it's woven counterpart. Please avoid contact with liquid as this may cause the printed fabric pattern to 'bleed'. The filling is made from organic whole grain corn, which is not popping corn so don't be afraid to heat it in the microwave. DO NOT USE if allergic to corn or cotton! Though dried the corn retains a certain amount of moisture which, when heated, allows the heat to penetrate more deeply into the body. Depending on how it is stored the filling may lose moisture over time. If this occurs you can put some water in a microwave safe container and heat it with the pack. Due to it's size and density these corn kernels retain heat longer than rice or buckwheat hulls, so when heated the packs stay warm for a longer time. Store pack in a dry state to avoid damage to the filling. It is recommended that pack be stored in an airtight container if kept in the freezer.
INDICATIONS
Heated pack brings warmth and comfort to tired, sore, overworked or cramped muscles. Heat promotes relaxation of soft tissue in part by increased blood flow. Not recommended for the acute phase of an injury where swelling is present. Pack may be used cold (frozen) to reduce swelling, inflammation, fever and as a natural analgesic.
DIRECTIONS
Hot Pack: Heat in the microwave on high setting 1-2 minutes (small) or 3-4 minutes (large) depending on microwave. Heat until warm to the touch. Temporary redness of the skin may occur but will go away and itching may occur if pack is too warm.
Cold Pack: Store in airtight container in freezer and use when cold is indicated such as the acute phase of an injury to reduce swelling and inflammation, with fevers, or just to feel cool and refreshed!
This product is made by me with my hands, love and this sewing machine. I hope you find it useful.